Adult Education & Literacy

Southeastern Community College (SCC) offers learning opportunities for adults to develop the skills necessary for employment, training or post secondary education, or to earn a high school equivalency diploma. Students are assessed and services are provided based on their needs and goals. Instruction is provided at no cost to students.
Adult Literacy
Do you want to learn how to improve your reading skills? Then the Adult Literacy program is for you. Trained volunteers will work with you in private, one-on-one tutoring sessions.
Adult Education
Adult Education classes are designed for adults who want to earn a high school equivalency diploma, or enter a college or training program. Classes consist of a combination classroom teaching and self-paced instruction, and online lessons and activities.
High School Equivalency Diploma
Didn't get a chance to graduate from high school? It's not too late.
Why earn the High School Equivalency Diploma?
Data from the US Census Bureau show that employers are looking for workers with a minimum high school education.
Worker with a high school education will earn an average of $7,000 more per year than those without a high school equivalency or high school diploma.
Most colleges accept a high school equivalency certificate as being equal to a high school diploma.
Each year nearly 8,000 Iowa residents complete the high school equivalency exam. Don't let them pass you by.
Take classes designed to help you pass your high school equivalency test. Subjects covered by the test are Language Arts (Reading and Writing), Mathematics, Science, and Social Studies. Note: you have to complete our Adult Education classes before you can take the test.
English Language Learning/English as a Second Language (ELL/ESL)
Classes are available for English language learners who want to improve their speaking, reading and writing for daily life and work.
Are you interested in any of these programs? Click the button below and begin the registration process.
﹤ Adult Education Pre-Registration ﹥
Adult Education Tutors
Become a tutor! SCC always needs volunteers to help adults in these programs. Click the button to submit your information today.
Questions?
Brenda Kempker
ABE/HSED Records Specialist
Phone: (319) 208-5314
Email: bkempker@scciowa.edu
A proud partner of the American Job Center network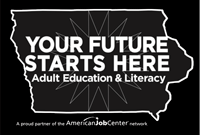 http://yourfuturestartshereiowa.org